We're putting the sparkle back in your houses and businesses with the Diamond Standard of exterior cleanliness.
We're putting the sparkle back in your houses and businesses with the Diamond Standard of exterior cleanliness.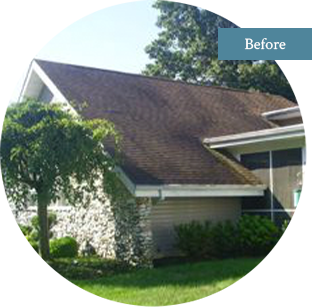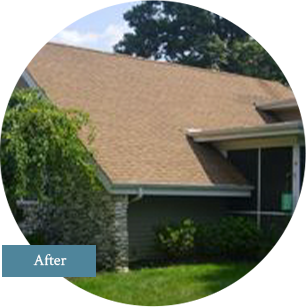 NEW JERSEY CERTIFIED ROOF CLEANING AND POWER WASHING COMPANY.
ONE COMPANY FOR ALL YOUR EXTERIOR CLEANING
With Diamond Roof Cleaning you have found Southern New Jersey's one stop shop for all of your pressure washing and exterior cleaning needs. While roof cleaning is how we got our start, our Diamond level expertise extends to so much more. We are proud of the fact that we have grown to become the highest rated pressure washing and roof cleaning company in all of Southern New Jersey. We offer residential and commercial customers everything from soft wash house washing, driveway and concrete cleaning, deck cleaning, rust removal, paver cleaning, and of course our amazing soft wash roof cleaning service.
Softwash Roof Cleaning
Black streaks on your roof? That's our specialty! Diamond Roof Cleaning is Southern New Jersey's leader in roof cleaning.
House/Siding Washing
Our soft wash house washing service is the perfect way to safely remove any dirt, algae, or other contaminants from your siding.
Gutter Cleaning
Clogged gutters aren't just a problem outside, they can cause water to backflow thru the fascia boards and create mold problems!
Deck Cleaning
Our deck cleaning technicians have the experience and equipment to safely clean all types of wood decks from cedar to redwood and even pressure treated wood!
Concrete Cleaning
Our concrete cleaning service keeps your driveways, sidewalks, walkways, and concrete pool decks looking fresh and clean.


Rust Removal
Diamond Roof Cleaning has a new safe and effective solution to eliminate rust and orange battery acid from concrete and asphalt surfaces.
Window Cleaning
Our exclusive window cleaning process will remove soap scum, window film and other containments that maybe making your windows dirty.
Commercial Cleaning
Our complete exterior cleaning solutions to help you to stand out from your competition, schedule when it's convenient for you!
We also specialize in Commercial roof cleaning and soft washing.
If you are a Property Manager and are fed up with your current contractor or you just need a great company to work with then just give us a call. We will put together a plan that will fit your budget.
Frequently
Asked Questions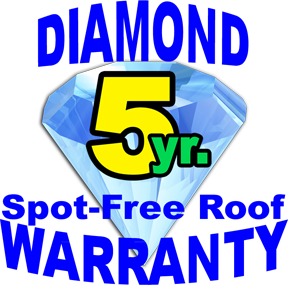 Our philosophy is simple. Provide outstanding results at affordable prices. We use state of the art technology and an unmatched level of dedication to make sure you are thrilled with your results. But in the extremely rare instance that you are not we have a 5 Year Spot-Free Warranty to back our Roof Cleaning Service!
Diamond Roof Cleaning is privileged to provide the South New Jersey area with Roof Cleaning, Soft Washing and Power Washing services. How are we able to deliver such amazing results time after time? Simply put, we don't accept anything but the best in any area! So we strive to be the best we can in every facet of our business, including:
Equipment – We utilize the most up to date equipment and the best cleaning soaps on the market to provide superior results for our customers.
Education – We fully understand the main causes of each part of the home's algae growth and have the most effective solution to eradicate the problem. Whether your siding is dirty or your roof, utilizing our soft wash equipment you can rest assured that we will never cause any damage as pressure washing can.
Proper Techniques – Never let anyone power wash your roof! It will cause damage that can only be fixed by roof replacement. At Diamond Roof Cleaning we always employ the soft washing technique for superior results, the safe way.
Experience – There is no substitute for experience. We have been producing amazing results for our customers since 2006. Some contractors call our service magic…we call it experience.
Customer Service – We love doing quality work and helping people save money. Our uniformed, courteous staff is dedicated to making sure you have the best experience possible! You can rest easy knowing that all of our roof cleanings come with a 5 Year Warranty that was introduced by us back in 2010.
Did you Know Diamond Roof Cleaning has been serving the Southern New Jersey area since 2006? That's right we have been in your area for over 16 years and have Fine tuned our Soft Wash Cleaning Method to be one of the best in South Jersey. We focus not only on the work at hand but we also strive to give you the best customer experience possible. Mike De Rose (owner) will make sure you are comfortable in every step from the estimate to the actual work being performed.
Did you know that not all exterior surfaces around your home can tolerate high water pressures? As industry leaders, Diamond Roof Cleaning is proud be one of the first roof cleaning and exterior washing companies to offer a specialized service called soft washing in Southern New Jersey! Our state of the art equipment means we can safely clean any surface around your home. It's just one of the many reasons why we are the top rated roof cleaning, power washing, and soft washing company in South Jersey!
Yes! Diamond Roof Cleaning is a company that strives on great customer service. We have uniformed, professional, and a courteous staff that has been with us since 2008. We are fully insured with General Liability and Workman's Comp and have the tools and knowledge to get any size property complete and done in a timely fashion. At the same time we will spend the extra time it takes to get the job perfect. If your not happy we're not happy. So give us a call and you'll become one of our happy customers. That is our promise.
04 JAN 2022
3 Ways Exterior Cleaning Improve Your Homes Value
With Diamond Roof Cleaning, improving the value of your home is as easy as 1, 2, 3...
Folsom, Hammonton, Collings Lakes, Williamstown, Sicklerville, Atco, Sewell, Cherry Hill, Marlton, Voorhees, Moorsetown, Collingswood, Shamong, Medford, Washington Twp and more!